The Pakistan Cricket Board (PCB) on Thursday revealed the schedule and squads of all six Domestic Associations for the upcoming National T20 Cup. The tournament will get underway on August 30th.
Notably, the first leg of NT20 is scheduled to take place at Rawalpindi Cricket Stadium and will take place between August 30th and September 7th. Whereas the second phase to be played at Multan Cricket Stadium will begin on September 10th, with the final scheduled for the 19th of September.
All six squads, including the first XI and second XI for NT20 and Cricket Associations T20, respectively, have been finalised by the chief selector Muhammad Wasim, who also considered the consultation of all associations. The board also announced the perks of performing well in the NT20.
According to the PCB,
The selectors have ensured that the players on the fringes of the national side get the opportunities to continue to push their case for the national selection and this summer's top performers in the City Cricket Association and Divisional tournaments climb another rung.
National T20 Cup 2022 squads:
First XI squads:
Balochistan: Yasir Shah (c), Shan Masood (vc), Abdul Wahid Bangalzai, Akif Javed, Ali Waqas, Amad Butt, Asad Shafiq, Haris Sohail, Haseebullah (wk), Hussain Talat, Junaid Khan, Kashif Bhatti, Khurram Shahzad, Mohammad Junaid and Sajjad Ali
Central Punjab: Faheem Ashraf (c), Abdullah Shafique (vc), Ahmed Shehzad, Ahmed Daniyal, Ali Asfand, Hunain Shah, Irfan Khan Niazi, Junaid Ali (wk), Mohammad Ali, Mohammad Faizan, Qasim Akram, Shoaib Malik, Tayyab Tahir, Usama Mir and Wahab Riaz
Northern: Umar Amin (c), Ali Imran (vc), Aamer Jamal, Hassan Nawaz, Mehran Mumtaz, Mubasir Khan, Mohammad Huraira, Nasir Nawaz, Rohail Nazir (wk), Salman Irshad, Shoaib Amir, Sohail Tanvir, Umer Khan, Usman Khan Shinwari and Zaman Khan
Khyber Pakhtunkhwa: Khalid Usman (c), Kamran Ghulam (vc), Adil Amin, Aamer Azmat, Arshad Iqbal, Asif Afridi, Ihsanullah, Imran Khan Snr, Israrullah, Maaz khan, Mohammad Abbas Afridi,
Mohammad Haris (wk), Mohammad Sarwar Afridi, Mohammad Amir Khan and Sahibzada Farhan
Sindh: Saud Shakeel (c), Mir Hamza (vc), Abrar Ahmed, Anwar Ali, Asif Mahmood, Danish Aziz, Omair Bin Yousuf, Rumman Raees, Saad Khan, Saim Ayub, Sarfaraz Ahmed (wk), Sharjeel Khan, Syed Faraz Ali, Zahid Mehmood and Zeeshan Zameer
Southern Punjab: Hasan Ali (c), Salman Ali Agha (vc), Ahmad Bashir, Ali Majid, Amir Yamin, Faisal Akram, Hassan Khan, Mohammad Imran Randhawa, Moinuddin, Mohammad Ilyas, Sameen Gul, Sharoon Siraj, Sohaib Maqsood, Zain Abbas and Zeeshan Ashraf (wk)
Cricket Associations T20 squads:
Cricket Associations T20 will also be played in a round-robin manner, and kick starts on September 2nd. The second XI of the six Cricket Associations will feature in the contest at Bugti Stadium, Quetta. The team finishing at the top of the points table on the league's completion on 15th September will win the tournament.
Second XI squads:
Balochistan: Bismillah Khan (c & wk), Imran Butt (vc), Abdul Hanan, Ayyaz Tasawar, Basit Ali, Daud Khan, Gohar Faiz, Jalat Khan, Mohamamd Shahid, Mohammad Ibrahim Snr, Muhammad Azeem Ghumman, Rasool Bakhsh, Taj Wali, Tariq Jamil and Zainullah Snr
Central Punjab: Rizwan Hussain (c), Muhammad Akhlaq (vc & wk), Abdul Samad, Abid Ali, Ali Shafiq, Asad Raza, Gauhar Hafeez, Haseeb-ur-Rehman, Imran Dogar, Mohammad Irfan Jnr, Mohammad Rameez Jnr, Mohammad Waheed, Mirza Salman, Mukhtar Ahmed and Umar Akmal
Khyber Pakhtunkhwa: Rehan Afridi (c & wk), Maaz Ahmed Sadaqat (vc), Ahmed Khan, Arshadullah, Haseeb Khan, Irfanullah Shah, Mohammad Farooq, Mohammad Irfan, Mohammad Nisar Afridi, Mohammad Usman, Nabi Gul, Niaz Khan, Tahir Khan, Usman Tariq and Zubair Khan
Northern: Umair Masood (c & wk), Musa Khan (vc), Abidullah, Aqib Liaqat, Ather Mehmood, Atif Khan, Farhan Shafiq, Hassan Raza, Kashif Ali, Mohammad Irfan, Shadab Majeed, Sufiyan Muqeem, Taimor Khan, Taimor Sultan and Zeeshan Malik
Sindh: Mohammad Taha (c), Hasan Mohsin (vc), Aliyan Mehmood, Ammad Alam, Arish Ali Khan, Ghulam Mudassar, Jahanzaib Sultan, Kashif Ali, Majid Asghar, Mohammad Afzal (wk), Mohammad Suleman, Mohammad Umar, Rizwan Mehmood, Shahid Mirani and Sohail Khan
Southern Punjab: Rahat Ali (c), Ali Usman (vc), Ahmed Hassan, Ali Imran, Humayun Altaf, Kaleemullah, Majid Ali, Mohammad Jahangir, Mohammad Junaid Awan, Mohammad Shehzad, Mohammad Sudais, Tahir Hussain, Umar Siddiq (wk), Waqar Hussain and Yousaf Babar
National T20 Cup 2022 schedule: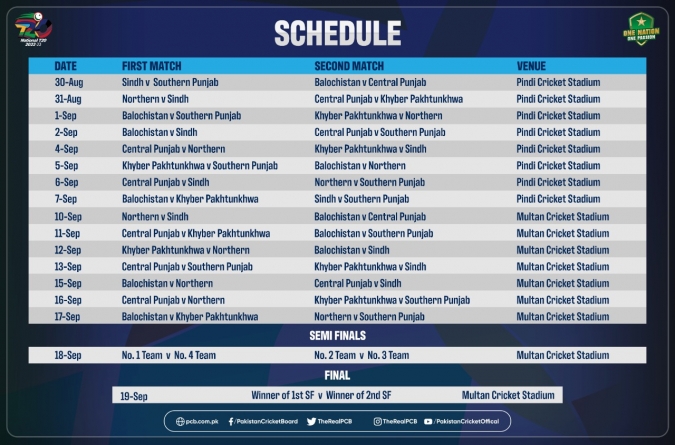 Book your tickets for NT20 2022 at www.pcb.bookme.pk
Also, see: